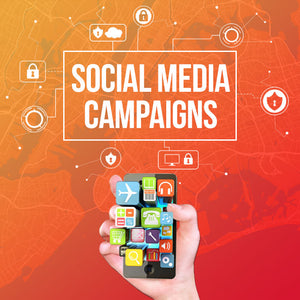 nSee our social media campaign portfolio.
| | | |
| --- | --- | --- |
| Package | Service | Price |
| SILVER | Set-up charge (campaign template & 3 images) | $300 |
| GOLD | Set-up charge & 20 images | $500 |
| PLATINUM | Set-up charge, 20 images & 1st month posting | $850 |
*Prices above are base prices. Should a campaign require additional images or posting, extra fees (upon approval) may apply.
Start a Social Media Campaign with Vacation Rental Brand
When a search engine algorithm decides where to rank a site in search engine results, many components come into play—including social media ranking. Social media is one factor in search engine traffic success.
The initial set-up charge of $300 includes a campaign template and three initial graphics. After that, each graphic will run $20 when created in lots of 10. If you require posting, our fees run about $350 per month for about 10-15 hours per month of posting, Posting packages are negotiable according to need.
If your activity on social media is consistent and relevant when a search for "vacation rentals in __________," proceeds, your site can rank higher. When property brands post to social media, credibility with search engines increases.
Deborah S. Nelson, Branding Expert
With years of travel writing experience, Nelson is publisher of The Vacation Rental Travel Guide. She specializes in branding vacation rental properties which include social media campaigns. In the past few years, Nelson has written nearly 300 travel articles for major vacation rental sites and various travel publications. Nelson is the author of There is a Niche for Every Travel Itch, The Vacation Rental Owner's Manual, and Don't Let Them Steal Your Brand. Sara Winner is an integral part of our social media campaign team and contributes graphic art design.