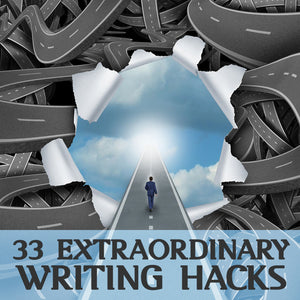 Are You a Secret "Wanna-Be" Writer?
Tired of promising yourself you will write that book
—

someday? Can't shake that passion to be a real, published writer?

Well, I know the feeling—I dreamed to write a book and be a writer for decades! Let me help you make your writing dreams a reality. 

This simple, but not easy, rich collection of writing tricks and hacks that Deborah S. Nelson has wielded to write and publish 22 books in 8 years—plus hundreds of articles. She shares these stealth concepts which took her years to learn. Now you can implement in weeks! Below are the topics covered in this mini-course. 
1. Writing is RISKY
2. Aspiring Writers Rock!
3. Write to Yourself
4. Do the Deed
5. Do it Daily
6. Write Recklessly
7. Get Over Yourself
8. Get Honest
9. Clear Your Mind
10. The Art & the Craft
11. Your New Lover
12. Zen Writing Space
13. Get Organized!
14. Write a Table of Contents
15. Write a Chapter
16. Books You Want to Write
17. Practice Writing Stuff

18. The Power of Storytelling
19. Writing to Share—or Ego?
20. Dream About Writing
21. Set Writing Goals
22. Create a Blog
23. Stay Inspired!
24. What's Your Life Story?
25. Your Life is a Book
26. Write the Action
27. Make Your Writing Better
28. Less is More
29. Clean it Up
30. Get to the Point!
31. Smoothly Written Ride
32. Words Paint the Story
33. Writing as a Lifestyle 
SAMPLE HACK 1. 
Writing is Risky
Writing is a risky business … and believe it or not—is a thrill-seeking avocation! As writers, we do not literally step off a bridge with a bungee cord, or jump out of an airplane with a parachute. But I contend—we push the envelope just the same. When we write something, and especially when we publish it, we take the risk of our life—of our emotional lives. We place our heart and soul onto the edge of a cliff for the entire world to see—but without a bungee cord or parachute. I would argue that even though we quietly sit at a computer, that our writing presents even more risk than any extreme sport.
So are you ready for this extreme sport? Wishing, "wannabe-ing", and fantasizing will get you started but isn't going to get you published. The first step you must take now is to confess that you are a writer and you are ready for the extreme risk. Say it OUTLOUD. I am a writer and I am ready for the extreme risk. This is not easy, but necessary to make real and measurable progress.
Deborah S. Nelson is an aspiring writer who has written and published 22 books to Amazon.com in the past 9 years. She has worked inside of a publishing house and has written at least 400 articles. She claims she is still an aspiring writer addicted to the thrill of publishing—both your thrill and hers. That thrill is what has propelled her into publishing coaching—and keeps her hooked!
Digital downloads must be paid in advance and are non-refundable.