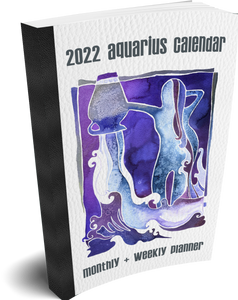 Want a personalized gift for someone that is not too personal? If you know their zodiac sign this calendar planner is the perfect, personalized gift! These beautiful watercolor images of your friend's sun sign will be sure to impress them with your thoughtfulness. Determine their zodiac sign from the chart below using their birthdate.
No matter the zodiac sign, organization helps make the most of any personality. This 14-month, monthly and weekly planner allows ample space to write in both monthly overview and weekly sections.
For continuity, start this December and use until January of the following year. Each monthly calendar includes United States federal holidays and 52 weekly pages for detailed appointments and plans.
Plus, best of all, we have included an extra section in each month for goals, dreams, and notes. This 140-page book also includes a full, yearly calendar, and a description of the zodiac sign.